Futuristic abstract Graffiti, Graffuturism
08/11/2017
Futuristic abstract Graffiti or Graffuturism Painted in collaboration with Tacos (TP, 3HC) in Vitry-sur-Seine in France in November 2017.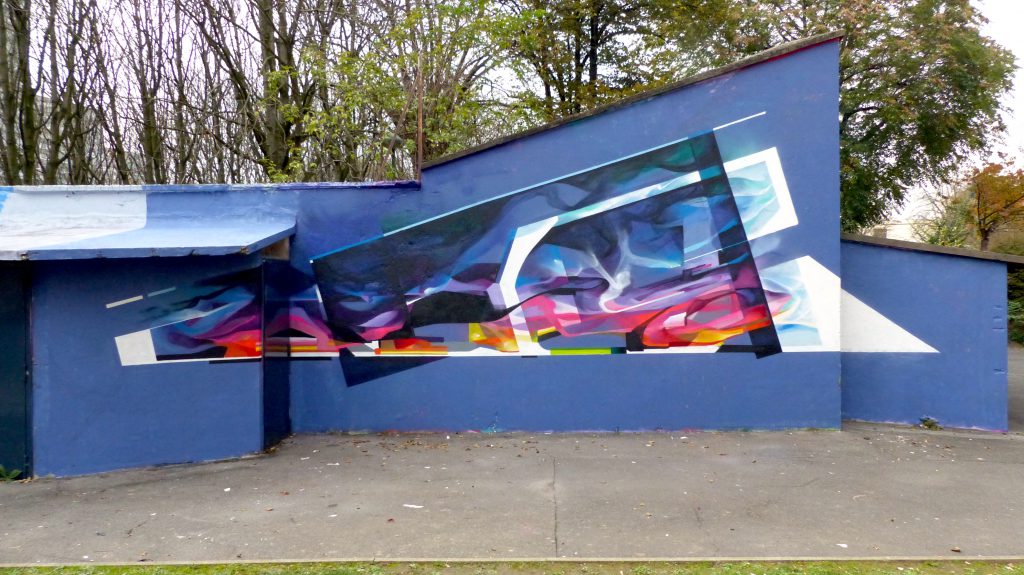 A common Vision of a futuristic abstract Graffiti
Even though our two styles may seem diametrically opposed, it seems that with Tacos we share pictorial aspirations relatively similar. It is certainly from this contrast between his voluntarily purified style and mine much more searched than a consistent balance creates.
That's why I appreciate every opportunity we have to be able to collaborate together. Moreover, having both a state of mind open to the proposals of the other, it greatly facilitates to work together. I think that each time we discover each other the prospects of individual evolutions.
The first of our collaborations was rather an abstract fusion, in the way we connect our two pieces. But the second was a true homogeneous mixture of our two styles on the entire surface of the wall: a mix of futuristic abstract graffiti.
Even though our two styles may seem diametrically opposed, it seems that with Tacos We share relatively similar pictorial aspirations.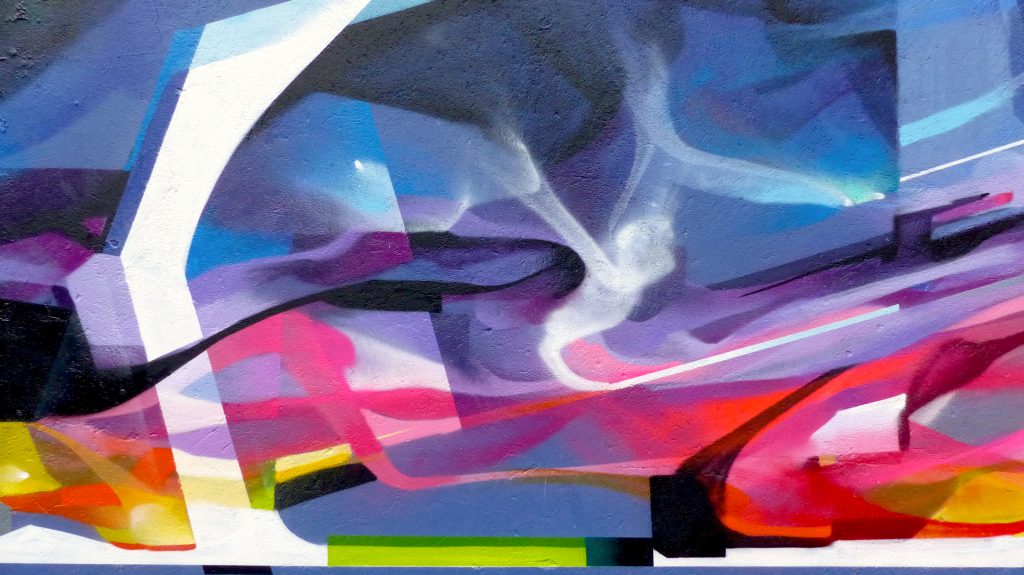 The vagaries of Graffiti
We are accompanied by Franck who films the session, in order to make a video about our daily performance.
Initially, we had to paint on a blank wall that our friend Klif " Vitry Art 2 Rue had dug up in a neighborhood of Vitry-sur-Seine.
Once there, I am taken by a doubt, the wall in question as well as the whole parking lot of the city have just been freshly repainted of a neutral grey .
And indeed, hardly time to get out our painting material That the agents of the residence technical service come to our contact. They make us understand after a short and cordial discussion, that it's not going to be possible today.
Indeed from the top of their windows some residents had taken fright and immediately called the agents. I'm not so amazed, we had felt the blow come, that's why we voluntarily timed it before we started to paint.
So we're talking with Klif to find a retreat plan. It's a pity, but I still prefer it rather than being interrupted in full painting. Not to mention all the problems of having a coarsely smeared wall.
It is with a point of disappointment that we retreat to another wall of the city centre of Vitry.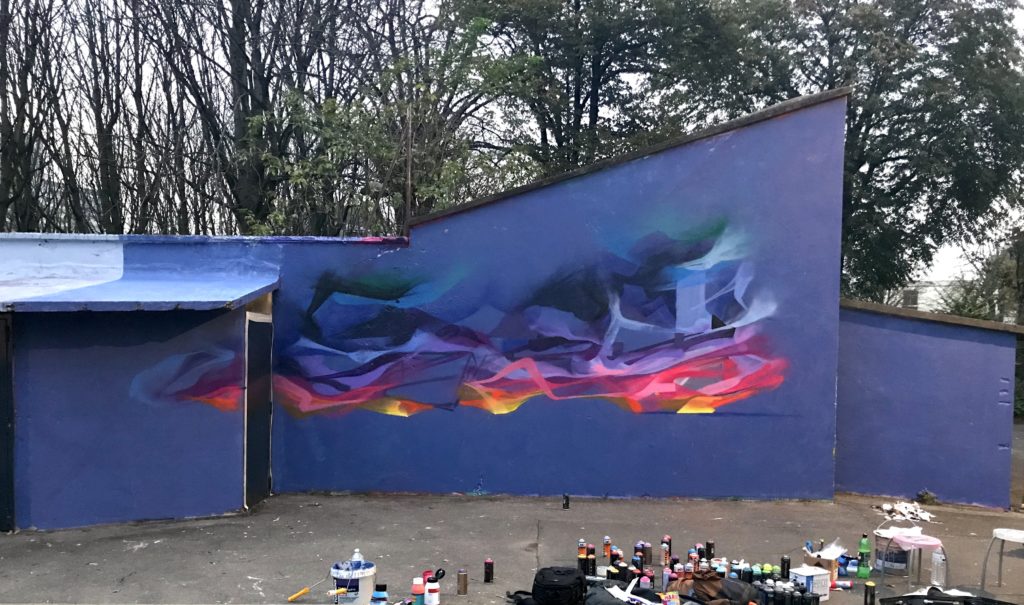 Preparing the Wall
So we arrive in the other spot, right behind at Klif, here we're sure we won't be disturbed. Even if at the beginning we are a little baffled by the format of the wall, in the end: it will rather make us a service for the composition.
First of all you have to scratch the wall, because underneath the previous artist had made a collage of which only scraps remain. After a good hour of scraping, we prepare a purple color made with mixes of our paints .
Once the wall is ready, it is already late, but I still decide to start painting. There is still a small hour of daylight, so I use the fatcap for the initial masses that will serve as the basis for our composition.
After the few adventures of the day, the fact of romping in freestyle with theastro-fatcap is also a good way to evacuate some frustration.
Painting discipline
From this base I will be able to work in the evening on a mock-up for the next day. This part is the most tricky for me and it's extremely time consuming.
I study the possibility of sticking the general geometry of the wall to form a large triangle. And after several other tests this solution is prove the most relevant.
The challenge now is to remain synthetic, especially in the positioning of the lines, in order to frame the initial flow while avoiding losing it. I am in this helped by Tacos who has the art of knowing how to discipline my galloping expansion.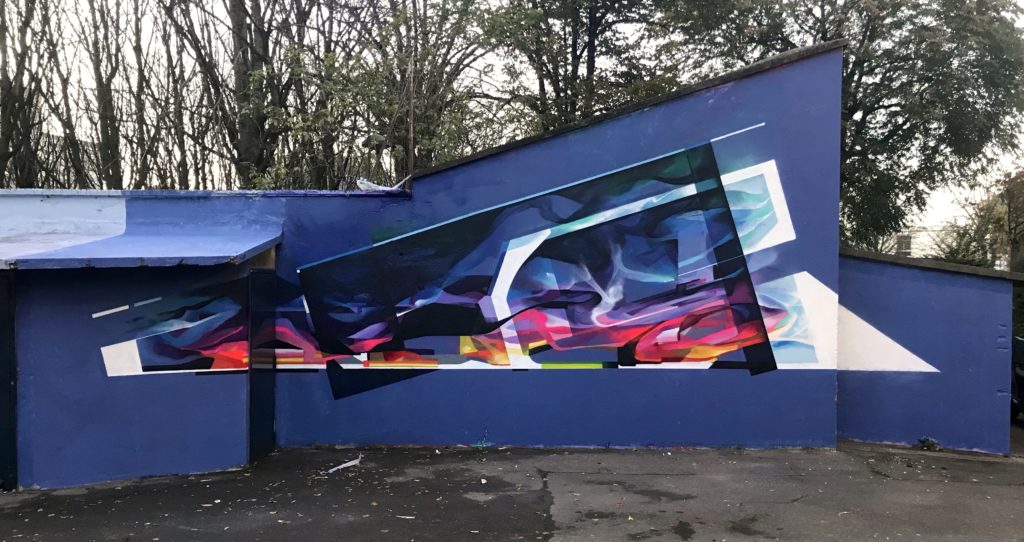 Last touches on the fresco
Finally, it will take me a second evening to refine the model, as well as a third day of finishing with Tacos to be able to be completely satisfied with the fresco.
This is where you have to be extremely careful not to overdo it and lose the energy already existing. So we spend more time and spending more energy thinking than actually painting.
We resign to sign the wall immediately. I tend to almost no longer sign the walls, unless I find a graphic legitimation to that. Instead, we will opt for small typographical letters in the form of stencils That will come to dress up the baseline with a high inter lettering value.
I'm going to make a stencil on my next trip to Switzerland, and then we'll sign it when I get back to Paris. I would also benefit from the opportunity to use laser cutting to make a complete alphabet in Helvetica or Helvetica Neue.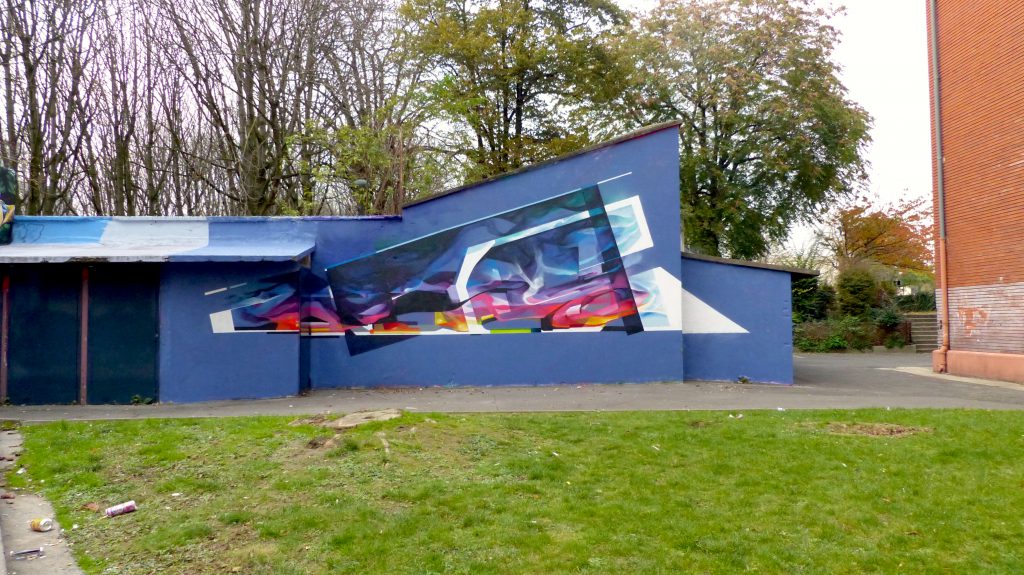 Conclusion
In conclusion, we are globaly satisfied with the result of this collaboration, and look forward to seeing the result of the video. It was once again a real pleasure to collaborate on this wall with my friend Tacos.
A big thank you to " Vitry Art 2 Rue For his logistical support and daily help on the wall, but especially for his legendary kindness. Thanks also to Jack2 For his advice among his wide choice of brands of spraypaints.
Futuristic abstract Graffiti or Graffuturism
Some links related to the futuristic abstract graffiti :