Rail landscape canvas
12/05/2017
Rail landscape canvas Suggesting the passage of a train in an alpine valley. This painting was done at the studio of The XP station in Paris.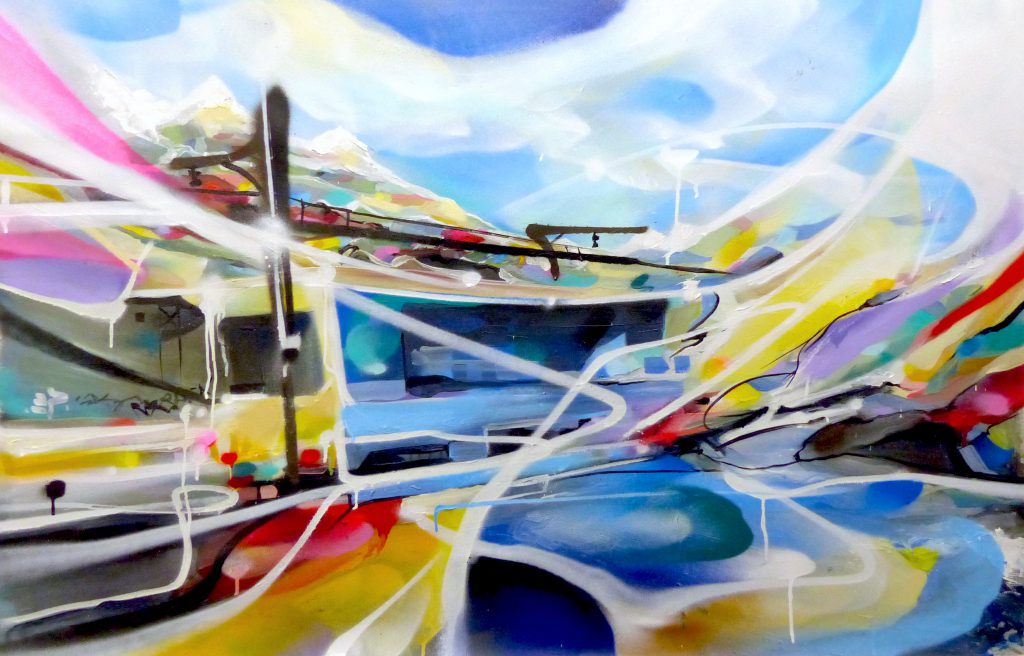 From figurative to abstract
For this Rail landscape canvas, in accordance with the other paintings of the same series, I pursued this approach consisting of a basic figurative, and then apply more treatment abstract.
It's one of my observation drawings which I reproduced on the canvas, in order to then be able to destructure it into a more instinctive pictorial approach.
The general idea of this series of paintings is to deal with figurative subjects in a rather suggestive manner.
Mixed Techniques
For this canvas I have defined a procedure that delineates a framework for the use of different types of paintings :
Acrylic paint initially to define the main masses.
The spraycan In order to draw dynamic lines, as well as for the elements of blurs and gradients.
And finally, oil painting by key, mainly for the quality of its pigments.
It is important to respect this order, as soon as you have applied the oil painting, you can no longer use other types of paints on top of it. In fact, the fat consistency of the oil painting then prohibits the use of a drier component.
Sometimes I exceptionally use the spray paint, above the oil painting. On the one hand I do not yet have enough hindsight to know if the painting will remain durably in time, on the other hand in this case I am very careful to use spraycans with solvent, not water-based.
At the varnish level I then use a spray varnish for oil and acrylic from Winsor & Newton.
Exhibition
This painting was exhibited in preview on the stand of Galartis In the Lausanne Art Fairand then as part of theCren & Bandi Exhibition in the Catherine Niederhauser gallery.