Rendez-up Hip Hop Paris 2017
I am fortunate to be invited to Paris, as part of the festival " Rendez-vous Hip Hop "To La Villette, in order to paint a wall on the theme of abstract Graffiti with four other artists: Lazoo, Pest, Neok and Lokiss. The festival takes place simultaneously in five major French cities, namely Paris, Lyon, Lille, Nantes and Marseille.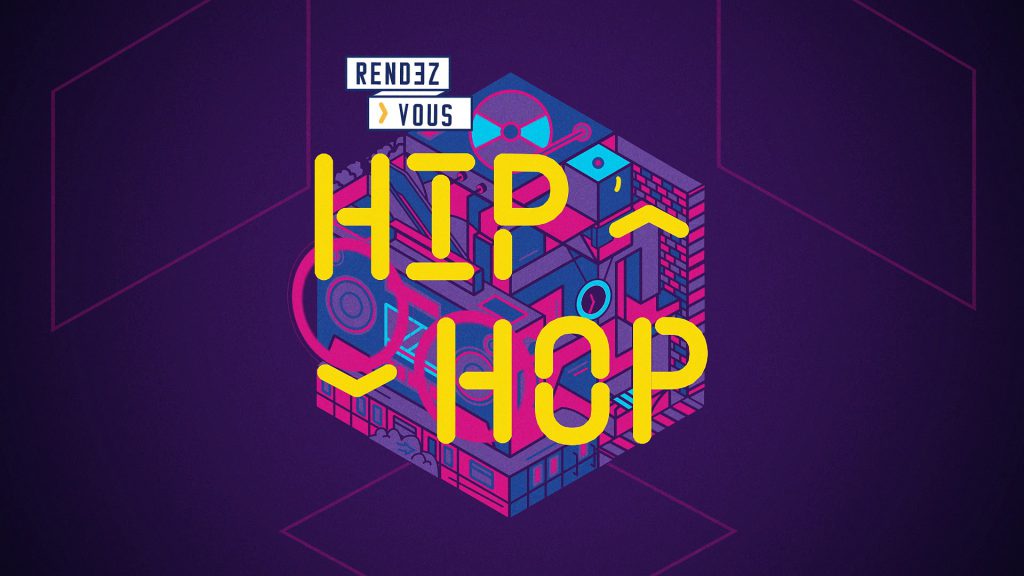 Hip Hop meeting in Paris
After more than a week of painting for the abstract fresco of The Espace Peripherique of La Villette in the month of May. We are invited on June 3 to the closing event. On this day we are invited to do a live painting in the afternoon.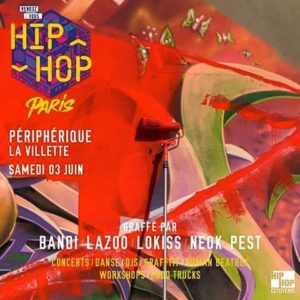 Hip Hop afternoon, yes but rainy
These are four panels that are placed at our disposal in order to achieve the Live performance. We need to use the spraypaints of the brand Amsterdam/Talens who sponsors the event.
Although I usually prefer to use them for a studio work, the spraycans behave rather well and the pigments are very good. I would only have 2 tiny reproaches to them:
the color range which remains thin, and only composed of ultra-bright colors.
the behavior of the astro fatcap which does not diffuse at all in the same way as on the usual bombs, certainly the technology used for this kind of cans, because the Montana water based have the same problem.
The rain will soon mingle with the feast forcing us to revise our pictorial ambitions downwards, we still managed to get well. And we're going to try to attend a little bit of the festival's activities.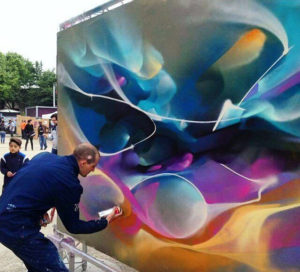 The Hip Hop disciplines represented
All disciplines of the Hip Hop are represented here: from graffiti, the beatbox, the rap, and of course the dance. After our performance, we took advantage of a nice revival moment enjoying the set of DJ Cut Killer.