painting Abstract post-contemporary graffiti
28/05/2017
Abstract canvas, Contemporary post-graffiti, painted on canvas and mounted on a chassis of 195 cm by 130 cm.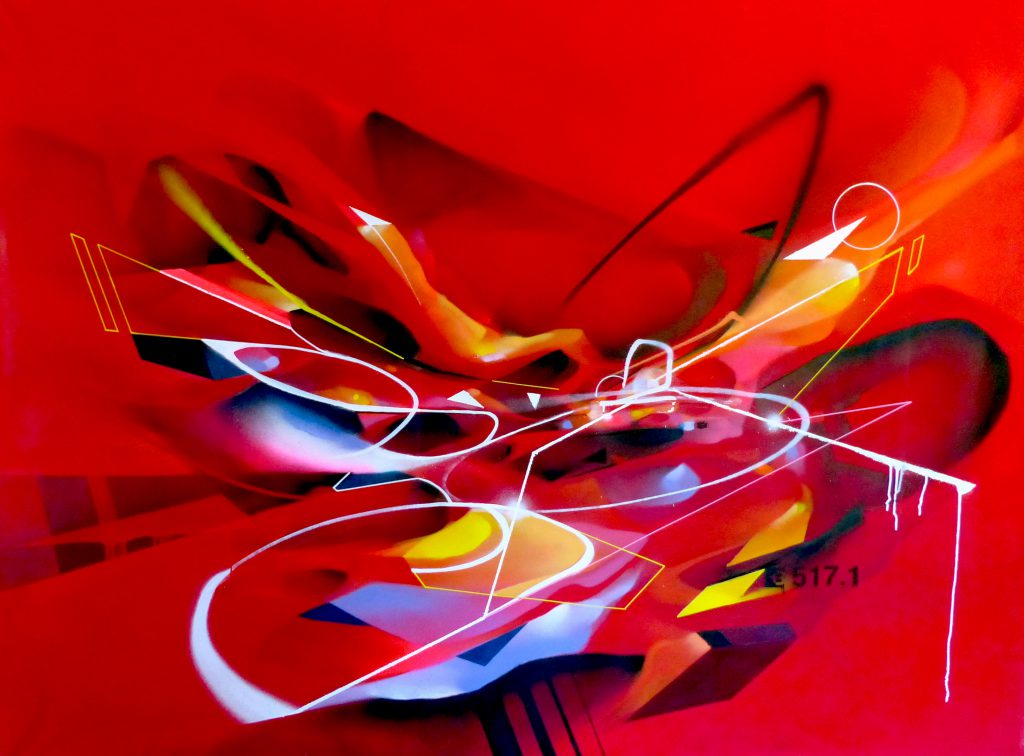 Painting Techniques and Materials
Back to the workshop at Paris. So I'm starting a new series of Abstract Canvas that I want to be ambitious both on a technical and a material level. Not to mention the pictorial aspect that remains of course the basis.
I decided to highlight some aspects of my painting by leveraging better-billed equipment on the one hand. But also with regard to the preparation of the support as well as its treatment.
piggy bank break in order, even if I have the chance to take advantage of a supplier well below market prices and with my studio compadres we were able to share the costs. This is still a certain financial investment.
Preparing the canvas
So I invested in a roll of linen "top quality" and the acrylic paint top-of-the-range brand Golden, not to mention it. I cut myself a surface of a meter and a half by two meters, I fix it to the wall, and here I am left for a new pictorial fight.
Although the canvas is already processed, I take the time to apply successively four layers of gesso to have a very smooth surface. Drying time included, this is already a day of elapsed.
Then it gets funky. Because I decided to make a red background and for that nothing is better than the box of Golden Serie 9 that I eyeing for several days. If I were to make a culinary metaphor: I feel like I'm spreading caviar on the roll over 2 square meters of the Poilane bread. It's quite enjoyable I must admit, I even offer the luxury of a second layer.
I almost hesitated to soak my roll in Evian Water limited series buy from the night grocer, but don't get too messed up either.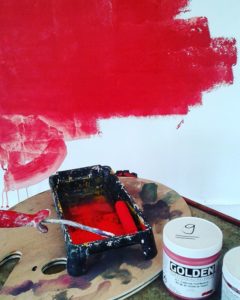 Process of creating the abstract painting
Now is the beginning of the serious things. This red background is so beautiful and silky that I still have to be careful to moderate myself so as not to completely trash it. In any case from the outset my intention is to enclose the subject at the centre of the abstract painting.
I have defined a new process of painting in two stages:
The instinctive step, in fact I simply reiterate what I usually do, which makes my singularity, i.e. an instinctive and spontaneous abstract painting largely based on movement.
The mastering step, is relatively new in my work. Starting from the base of the first stage which is often quite chaotic, I will try to create a kind of balance. In other words, a frame in the composition, either with lines or abstract geometric elements.
As the first step seems to me every time obvious and fast. However, it implies that the second is long and tedious. Indeed I have to spend much more time thinking about doing tests on the computer in order to validate each step before any technical realization on the canvas.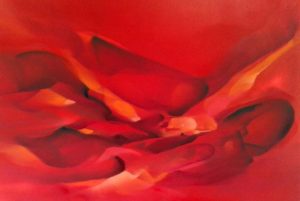 Abstract canvas, the instinctive step
For this abstract canvas I proceed therefore starting with colors in the same shades as the background. That is to say the burgundy as well as different shades of red.
This step is certainly the most pleasing, entirely based on the expression of this gestural which is mine. So I'm spreading with astro fat, shots of brushes, small spray effects. Some in the workshop believe me to be suffering from Tourette's Syndrome. At that time I think about George Matthieu, if he had known the spraycans with an Astro Fatcap.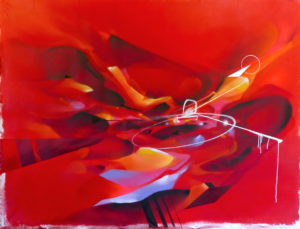 Abstract canvas, the step of the Mastery
It's an other story that starts. A story that announces hours of head shots in front of my computer screen. Indeed how happened to give meaning to what was achieved during the first stage.
I take picture of the canvas And I position it as a background in a new illustrator document. Bezier curves to the left, a white mass to the right, and then I find it all lame. Not convinced, I then shamelessly erase half a day of reflection in a form of intensive procrastination. I wouldn't touch the painting as long as I would not find the perfect solution, at least the one that seems the best, see the least worse.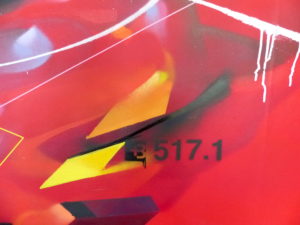 Less paint, more reflection
I ask the opinion of other person having a new look at the thing, and sometimes come back to the previous ideas, then I ended up validating an action that I realize on the canvas. And then? I start again, taking pictures, illustrator, intellectual handjob and so on. Until the time that you have been looking for 4 days, and everything you propose does not bring anything, it means that it is finished.... Unless... And then... But finally, no. Yay it's over... I think...
It must be admitted in terms of abstract art some things are not predictable or even feasible on a mock-up. For example, how a drip Going to behave or an effect of fatcap. You have to be able to take certain risks at times.
This step does not really give me the impression of creating or inventing a few things, as the first allows me. But rather, in the way of a scientist to have to discover something that already existed.
Until the time that you have been looking during 4 days, and everything you propose does not bring anything, it means that it is finished.... Unless... And then... But finally, no.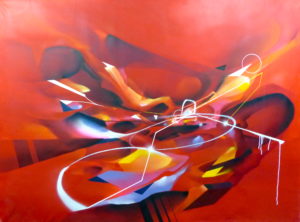 The final processing of the abstract canvas
To do things right to the end it is also necessary to ask the question of the final treatment of the canvas. In short what type of varnish to choose?
So I decide to conduct tests on a small piece of canvas. On this piece I apply in the background the famous acrylic paint Golden Red Series 9. Then some lines of each of the types of paintings used. I delimit my surface with two perpendicular scotches that delimit four test areas.
For this test, I apply a spraycan of matt varnish, a satin one from Lascaut and a brilliant one from Liquitex. While leaving the fourth area unvarnished. The satin varnish has had the unfortunate tendency to cause a dilution on the Molotow marker, but I certainly applied it a little too quickly.
I will finally opt for the matt varnish. Especially since there are large empty masses on the canvas. The lacquered effect of the gloss makes me a little afraid for this abstract painting.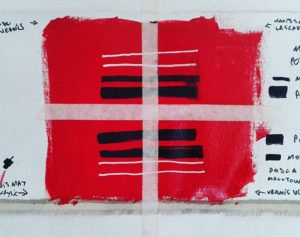 Result of abstract painting process
It has to say, all this taking of the head has a goal: the result. And for once I can say I'm super satisfied with this abstract painting. Otherwise I certainly would not have written such a long article on the issue. For me this painting Is the founder of a new style that I now wish to explore and decline, bringing in the future certainly other dimensions, architectural for example.
If you are interested in this painting. Please contact the IdRoom Gallery of Geneva using this contact form.