Graffiti in Vitry-sur-Seine with Brok
02/05/2017
Session graffiti in Vitry-sur-Seine in the Joliot-Curie District with Brok 3HC.

Video of the graffiti session in Vitry-sur-Seine
Here is the video scroll of the entire length of the wall made with Brok in Vitry-sur-Seine during this afternoon of May.
Wildstyle and abstract graffiti
So I get to Vitry in the middle of the afternoon, after going to the shop to replenish me in spraypaints, Brok has already almost finished his piece.
Not obvious to merge our two styles, especially as its lines are so clean that I have a little bit of stress as soon as I approach too close to his lettering With my big shots ofastro-fatcap.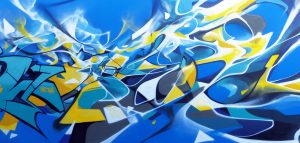 color range
We had previously agreed on the color range, the base is a blue background Super deep that one will call blue smurfs, Brok, he went on a filling with green turquoise, so I am on the turquoise shades.
I decide to add yellow, but also different blues tones to create shades in the background.
Finally, I'm going to stay an extra day at Vitry to properly tune the wall on its full length.