Festigraff 4 Dakar Senegal
It is at the invitation of Docta and some Doxandem Squad that I go to Festigraff 4 Dakar Senegal accompanied by Seika and Joule. This year the festival's godfather is Mode2 one of the precursors of the movement Graffiti in Europe.
I realized an installation in the gallery "the Carousel" with the salvage materials I could find on the spot. The contrast with Europe is striking it is much more difficult to find here abandoned things in the street. I had competition especially in the recovery of cartons.
The rhythm is dense with new walls to fill almost every day.
Relaxed atmosphere on the last day with the traditional visit of the island of Gorée.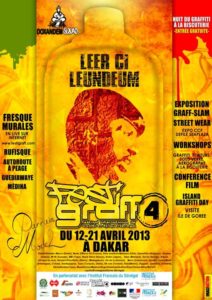 Festival OFF
Many moments in transport between the different spots, fast bus atmosphere:
We spent a lot of time taking pictures with a little bit everyone so here is the gallery of portraits of Festigraff 4: